Tinos island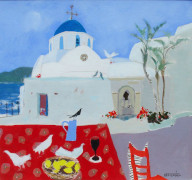 The 9th IC-MSQUARE will be held at the
Cultural Foundation of Tinos
at Tinos island, Greece. An extraordinary island, as the religious part, its culture and art and its special gastronomy, is the ultimate plus to the unique natural landscape with its villages and its lacy beaches. Aeolus' island or the island of marble sculpture, as Tinos is often called, boasts gifts that anyone will be fascinated by.
This island is like an outdoor museum as many Greek artists were born and grew up there. Giannoulis Halepas, Nikiforos Litras, Nikolaos Gizis are only a few of them who made their mark in Greek art. Carved to the last alley, Tinos has more museums and culture foundations than any other island. In every visit you unfold a different aspect of Tinos' history.
Information about the venue, directions and details about Tinos island can be found here.